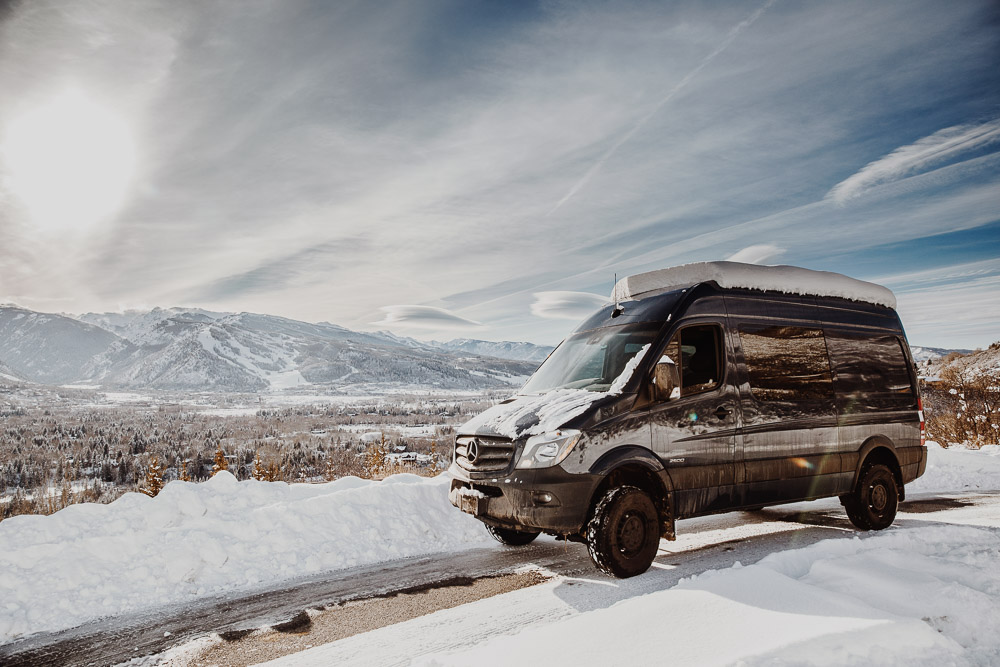 'Blue' the Sprinter Van (2016 Mercedes Benz 4x4)
Details
Location: Aspen, CO, 81611 view on map
Sleeps: 2
Type: B
Length: 19 ft
Minimum days: 3
Price per day: $210 / Price per Week: $1050
Vehicle: Mercedez Benz / Sprinter ('2016)
Overview
'Blue' the Sprinter Van is the first van built out by our start-up upfit company, Aspen Custom Vans (www.aspencustomvans.com). We wanted functional, beautiful and a kitchen that faced outwards to be able to socialize when we cook. This van has a dining bench set-up that easily converts into a queen bed, very comfy custom cushions, plenty of storage under the benches that are also accessible from the back door, and a full kitchen. There's solar power, a diesel heater, great storage nets along the walls, and a little fridge for the essentials. It's also 4 wheel drive for winter adventures and access to campsites in slightly harder to reach spots. It's tall and big, but drives like a average sized car. We love it!
Amenities
Air conditioner
Audio inputs
Backup camera
Cd player
Ceiling fan
Dining table
Extra storage
Heater
Kitchen sink
Leveling jacks
Mpg: 19
Pet friendly
Radio
Refrigerator
Solar
Stove
Tow hitch
Checkout
Aspen Custom Vans
Kimbo & Jason Schirato
We are a young couple living in the Roaring Fork Valley, & fully subscribe to the 'work hard, play harder' lifestyle. We love nothing more than discovering the country on climbing road-trips to locales like Red Rocks, Joshua Tree & Bishop. Our introduction to 'Van Life' came after we grew tired of the hassle of car camping. Our first van was a Chevy Explorer conversion, & it allowed us to keep all our gear in one place, hit the road on a Friday with nothing more than our weekend clothes & climbing or biking gear, & get as much time being weekend warriors as possible. We soon pined for the standing room & kitchen associated with a taller van, & set our sights on a Sprinter Van. We then bought 'Tootsie' the Dodge Sprinter Van; a 2006 Sportsmobile conversion. After doing a lot of work to the interior, the van suited our style perfectly. We sold her in May of 2018 to a very happy family. Our second sprinter, 'Blue', is a 144" 2016 4x4 Mercedes Sprinter, and she was our first from scratch build-out. There's nothing like pulling into camp, cracking a beer & taking in the view. Home really is where you park it & we look forward to sharing it with you.