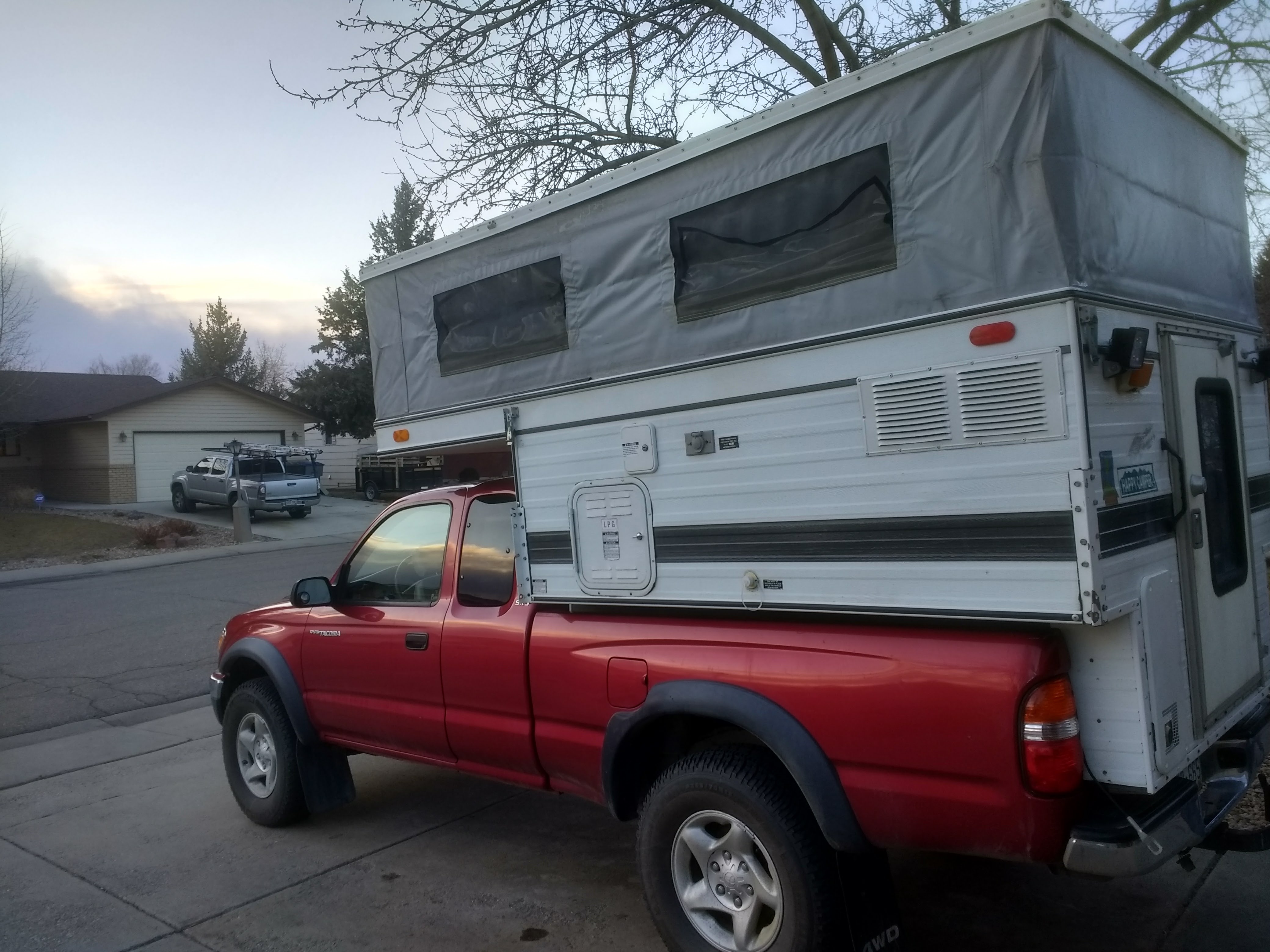 2003 Toyota Tacoma
Details
Location: Longmont, CO, 80501 view on map
Sleeps: 3
Type: B
Length: 10 ft
Minimum days: 3
Price per day: $100 / Price per Week: $700
Vehicle: toyota / tacoma ('2003)
Overview
The 'Red Rocket' is a very reliable truck that has a Four Wheel camper on it that is in excellent condition. The Toyota is in top condition at 163,000 miles and we maintain it thoroughly. The four wheel drive Red Rocket can handle rough terrain and will get to places that vans will not. Before you keep reading, please know that the truck is a manual and requires the ability to drive 'stick'. The popup Four Wheel camper is a 2006 Eagle model. When popped it is perfect for a couple adults and a kid or two. It contains a queen size bed and a couch that can sleep someone as well. The couch is a roll over couch, which means it becomes a bed that is around the size of a twin. The camper has solar panels on top and two newer batteries. With Colorado sunshine you can stay in one spot for three days without having to start the truck to charge the batteries. The camper has a fridge that keeps things very cool. In addition, the camper has a sink and a 20 gallon water tank. Also, we carry 6-12 gallons of fresh water in jugs for drinking and washing, which I will provide if you would like. The heater in the camper keeps things warm as the camper has insulated canvas. In the middle of winter you will stay plenty warm in the mountains. The 20 lb tank of propane will last 4 nights in the winter if you are using the heater for about 8-10 hours a day. The Red Rocket has a Yakima 'Swing Daddy' bike rack, which allows for easy access to the back of the camper. The rack also has an attachment for snowboards and skis. The rack will carry 3 to 4 bikes or snowboards/skis. A quick note: the pop up process is supported with hydraulic struts. It is easy to do even with some items on the roof rack.
Amenities
Awning
Bike rack
Fuel tank: 15 gal
Heater
Kitchen sink
Pet friendly
Propane tank: 20 gal
Refrigerator
Solar
Stove
Tow hitch
Water tank: 20 gal
House rules Please take care of the 'Red Rocket'. She is our outlet to adventure. All we ask is to show respect to her. The one thing I can think of is, please no smoking in the truck and camper.
Checkout
Michael Mowen
We like to escape to the mountains in the silver bullet as much as possible. We like to hike, bike, ski, snowboard and explore the mountains in the bullet. We get out as much as we can but life demands keep us in civilization more that we would like. Take advantage of our busy schedule and explore for us!