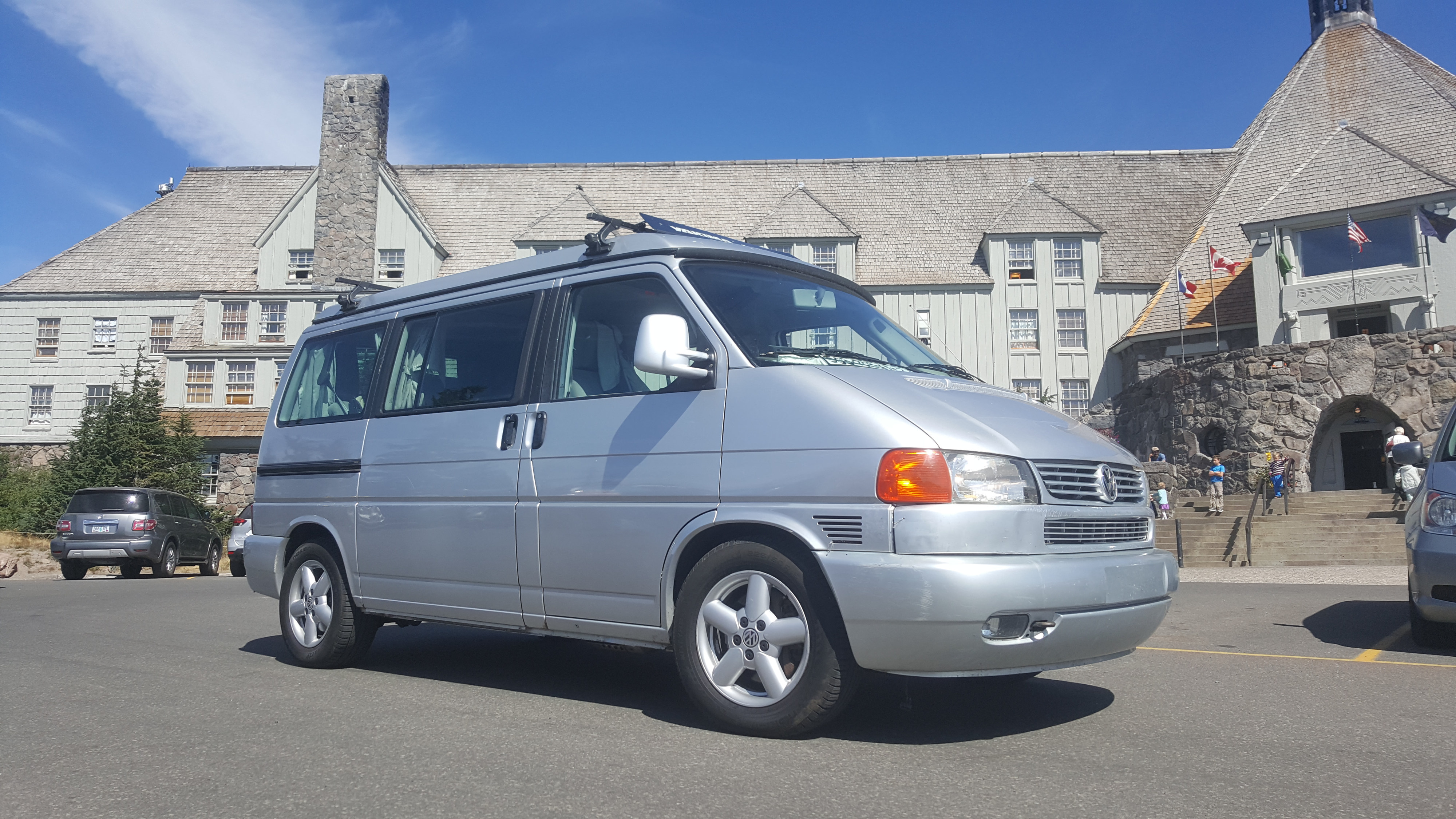 2002 Silver VW Westfalia Portland
Details
Location: Portland, OR, 97233 view on map
Sleeps: 5
Type: Camper-van
Length: 18 ft
Minimum days: 0
Price per day: $75 / Price per Week: $525
Vehicle: Volkswagen / Westfalia ('2002)
Overview
Wonderful 2001 VW Westfalia POPTOP with a brand new canvas, stereo, detail job and more. If you are ages 21 to 25 and/or from a country besides U.S.A. you need to check at the link below or something like it to get third party vehicle insurance because Outdoorsy will let you rent our vehicles but you need to get your own insurance in you are in those 2 categories: https://www.allianztravelinsurance.com/find-a-plan/rental-car-damage-protector.htm RentTripVans.us reserves the right to provide you with the same van of a different color or a same or similar van with a top tent with an external entrance if for some reason due to mechnical or other reasonable reasons the van you have reserved becomes unavailable. We dont allow people to keep a box on top of the roof if they pop it...even if its empty because it will break the cylinders that pop it up and they are expensive and hard to install. You will be charged for the purchase and replacement of the cylinders if you do this. All vans must be covered by The Peace of Mind insurance package. If you choose a.lower level of insurance you will be automatically upgraded.
Amenities
Air conditioner
Audio inputs
Burning man friendly
Cd player
Dining table
Extra storage
Heater
Inverter
Radio
Refrigerator
Skylight
Tailgate friendly
House rules All of our vans are well maintained and road ready. We ask that no one smokes in the vehicles. Obviously sleeping and eating is perfectly fine but please respect the vehicles like they were your own so that next time you rent from us we will be able to serve you with more of our great vehicles. 100% of the profit from these vehicles goes to the forward progree of our humanitarian aid both at home and overseas. Thanks and welcome to the family.
Checkout
RentTripVans.us
RentTripVans .us
We are full time humanitarian aid workers and travel throughout the year to help people in need and to raise funds to allow this work to go on. 100% of the profits of these van rentals go to support this work.
With multiple trips across the USA we found out how much fun it is to travel in VW Eurovans and other similar vehicles. The Sprinters are similar and starting from Portland and going out throughout the Pacific Northwest and the whole West Coast makes it even better. We will even pick you up from the airport and let you do a one way trip and fly in to pickup the van when you are done with your one way vacation. What are you waiting for... let us help you start having fun and we will make you a deal that you just can't refuse!!!